Off The Beaten Path
Gino's Bottega Italiana is the type of hidden gem you hope doesn't shine too brightly so others don't discover it, and also the kind of place you wander into unexpectedly and then can't wait to tell your friends about. Partners Alberto and Fabio Ruzzon and Ernesto Bermudez have managed to create a brand of authentic neighborhood restaurant Miami sees less and less of these days. The Ruzzon brothers bring their cooking expertise from Venice where they opened their first restaurant, and diners can see all that knowledge here. For proof, order the fried pizza (something you don't see on Italian menus in these parts too often), which is served with tomato sauce, stracciatella, Parmesan and oregano. Also worth the calories is the soft poached egg alla carbonara with Parmesan, pepper and pork cheek. A stellar wine selection solidifies Gino's appeal.
WHAT YOU NEED TO KNOW
Vegan? Ask your waiter for the plant-based dishes available, which change on a weekly basis. 6606 Collins Ave., Miami Beach, 305.397.8296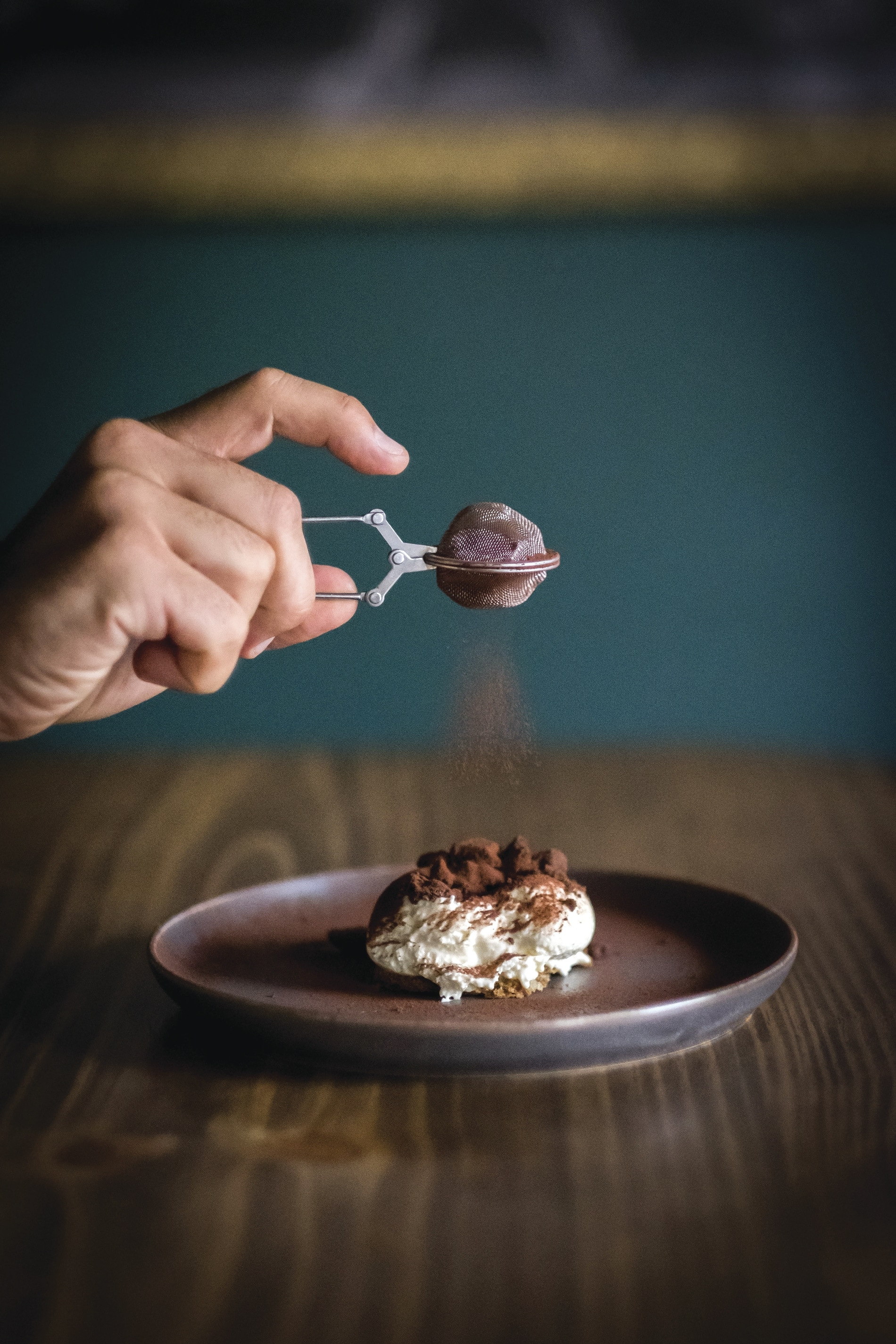 Gino's Bottega Italiana's tiramisu is as much about presentation as it is about taste.

Chef of the Moment
With all due respect to the other Michael (as in Schwartz), we can't help but be impressed with Michael Beltran's trajectory in the last few years. The man is intent on leading the charge on Coconut Grove's renaissance when it comes to cuisine. First he did it with Ariete (3540 Main Highway, Coconut Grove, 305.640.5862), a tiny yet sophisticated spot that put him on our radar thanks to selections such as chilled mamey soup and beef tongue tartine (plus caviar service!). Then came Chug's (3444 Main Highway, Coconut Grove, 786.534.8722), his Cuban take on an American diner where he dishes out medianoche sandwiches with duck confit, orange mustard, country ham and housemade pickles. And now he's delighting us again with Navé (3540 Main Highway, Coconut Grove, 786.615.3747), a collaboration with fellow chef Justin Flit that blends Beltran's fine dining sensibilities with Flit's more rustic ways in the kitchen via dishes such as snapper Milanese with San Marzano tomato compote and arugula.
WHAT YOU NEED TO KNOW
Coming soon to Ariete is the Duck Press Experience, a revered French cuisine tradition that dates back to the 1880s. The duck is dry-aged for 15 days and then roasted and glazed in reduced sugar cane juice. The bird is then presented tableside and carved and pressed to extract blood, which is made into a rich sauce spooned over it.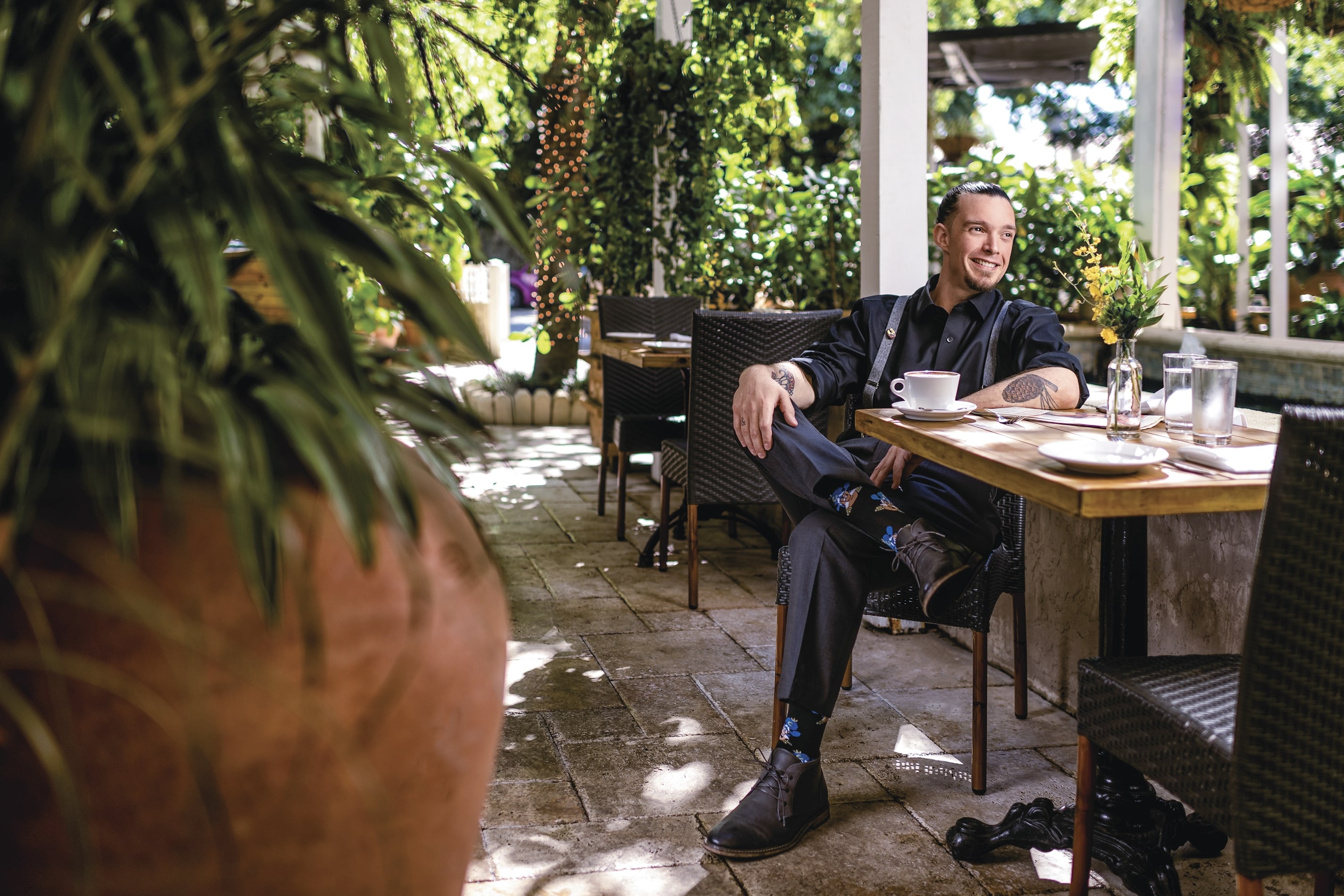 With three restaurants to his name, Michael Beltran is one of the city's most prolific chefs.
Alfresco Flair
Waterfront dining doesn't get better than The Deck at Island Gardens, situated next to the first deep-water superyacht marina of its capacity in the Western Hemisphere. With its wicker chairs and bayside cabana lounges, this is a place with clear jet-set intentions. Arriving via a VanDutch or other such vessel is the way to go, but driving there is also just fine. A meal here is meant to start with a seafood tower composed of fresh-sourced oysters, whole lobster tail, jumbo prawns, king crab legs, tuna tartare, salmon tartare and cobia tartare, and it must also include pasta, preferably the ravioli with pear and Gorgonzola cheese, finished with black truffle cream sauce.
WHAT YOU NEED TO KNOW
The arugula salad is no mere salad here. At dinner, it is tossed tableside in a 24-month-aged Parmigiano-Reggiano cheese wheel with endives, cherry tomatoes and Italian black olives, and served with scrapes of the cheese on top. Also, while popular with the dinner crowd, The Deck's Sunday brunch is a lazy daytime affair from noon to 4pm at which the music grows louder as the weekend's finale gets closer and the rosé just keeps on flowing. 888 MacArthur Causeway, Miami, 786.627.4949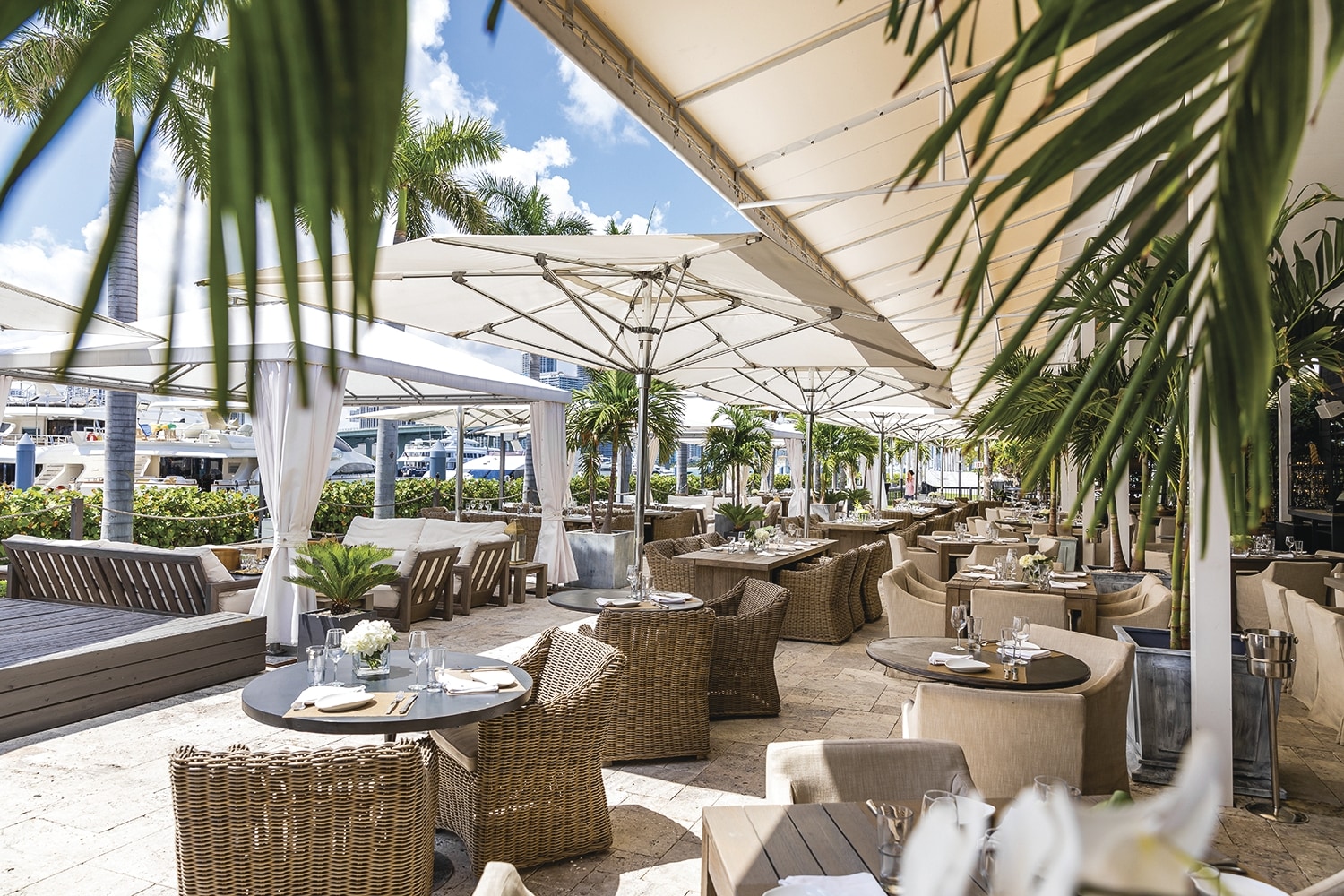 The Deck at Island Gardens faces one of the world's largest superyacht marinas.
No Bones About It
Despite its no-fuss interiors, Hometown Bar-B-Que is no barbecue joint—places that offer $56 bottles of Bordeaux and accept reservations can't claim that distinction no matter how they opt to present themselves. What Hometown Bar-B-Que is is authentic. An offshoot of the original in Brooklyn's Red Hook area (known for lines out the door), Hometown is the brainstorm of Bill Durney, who had avoided opening a second location for years, yet told The Miami Herald he was sold on our city right away. This is a place for Texas-style barbecue inspired by flavors from Jewish to Korean and, now, Latin and Caribbean. Beef and pork favorites here are available with chimichurri sauce, Scotch bonnet and jerk seasonings, and while dining occurs on communal tables, with dishes served on cafeteria metal trays, the venue's luxury car-filled parking lot tells us the city's well-heeled set has wholly embraced this carnivorous den.
WHAT YOU NEED TO KNOW
Although technically a side dish, the smoked pit beans topped with pulled pork is a meal unto itself. 1200 NW 22nd St., Miami, 305.396.4551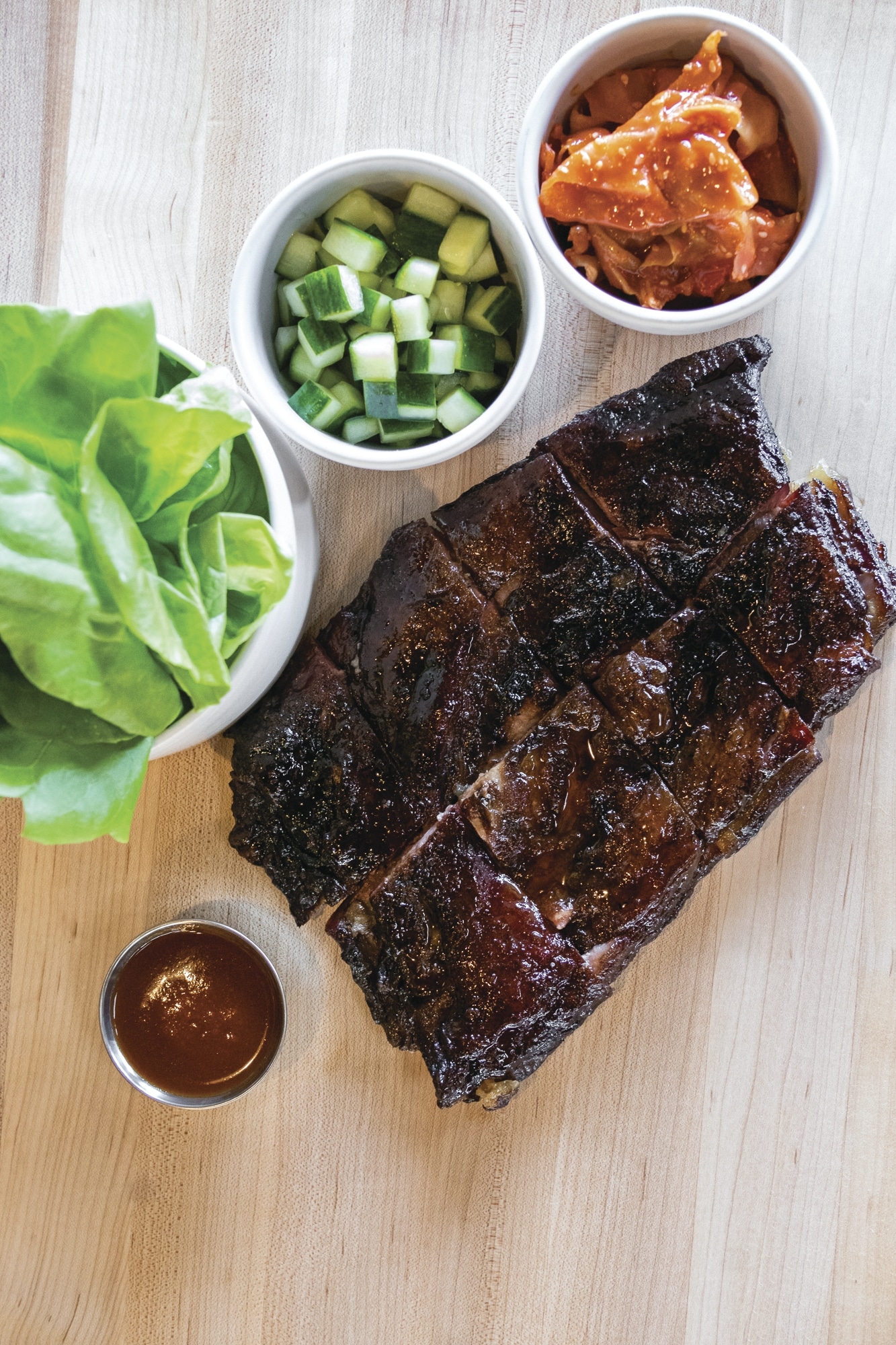 Superior cuts of meat are what Hometown Bar-B-Que is all about.
Photography by:
Gino's Photo by Elena Marangon/courtesy of Gino's Bottega Italiana | Beltran Photo by Nick Garcia | The Deck at Island Gardens Photo courtesy of the restaurant | Hometown Bar-B-Que Photo by Giovanny Gutierrez