You two are in high demand these days! What is this Super Bowl collection with Saks Fifth Avenue all about? Dan: Well, we have always had a strong connection with sports, especially since we did our first collaboration with the Juventus Football Club in 2006 followed by another one with the Barcelona Football Club in 2009. We were also very proud as Canadians to design the outfits for Team Canada for the opening ceremonies at the 2016 Olympics in Rio. We truly admire the healthy beauty of athletes and believe that sports, together with music, is an element that's a big part of our DNA. The capsule designed exclusively for Saks perfectly fits Miami! It's colorful, bright, cool and our logo is accompanied by graphic lines and palm trees!
That's not all that's on your plate. You also partnered with Pepsi in the limited-edition #D2XPEPSI collaboration. What did working with such a legendary brand mean to you? Dean: The collaboration with Pepsi came up so spontaneously! The iconography of Pepsi has always been centered around celebrating life, and we used this vibe and spirit as the foundation for the collaboration. We used the iconic Pepsi ads from the '80s and '90s as our inspiration for the collection, which is about streetwear, and created a 2020 version of it through our lens.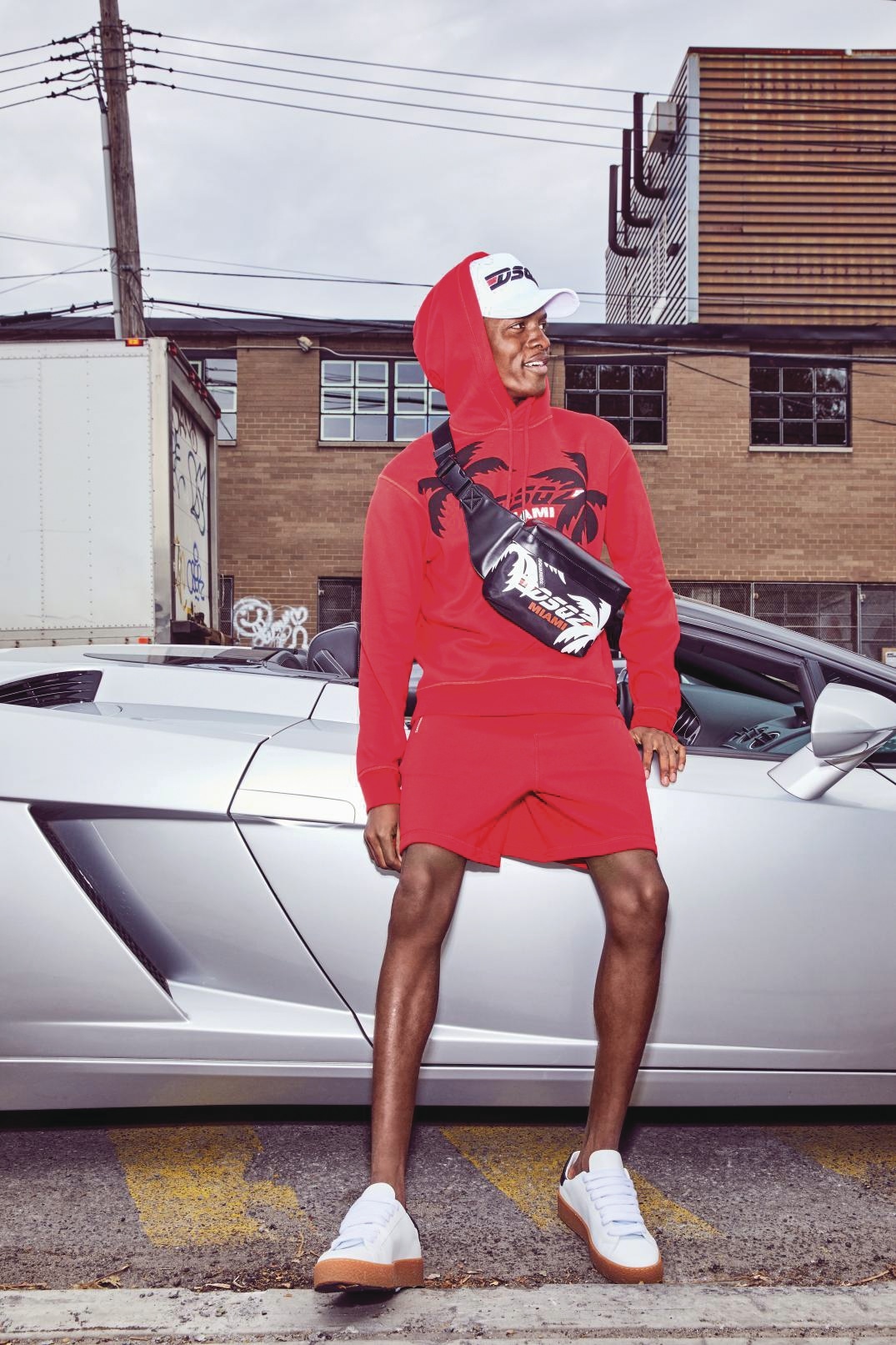 Available at Saks Fifth Avenue at Bal Harbour Shops and Brickell City Centre, the new Dsquared2 collection inspired by Super Bowl LIV features tracksuits, T-shirts, shorts, sneakers, slides, belt bags and baseball caps with a Miami logo
Is your design process for these special collections different than when you are working on your own signature lines? Dan: We love mixing and matching different worlds, so there is no difference for us in designing a capsule or our own signature lines. The important thing is to be together as we would not function without the other. Dsquared2 is all about two creative forces coming together. We share the same vision and goals because we are at the same time brothers and creative partners. Dean: Exactly! Dsquared2 represents our personality, identity and style. We simply remain true to ourselves.
There is so much pressure on luxury designers these days to put out work. Do you ever worry about running out of ideas? Dean: The fashion system has definitely changed since we started, and we should know as we'll be celebrating our 25th anniversary soon. We've adapted to the changes. For instance, we've been presenting our men's and women's shows together since fall/winter 2017. That means we can spend much more time focusing on two shows instead of four, and there's no need to force the difference between men's and women's collections.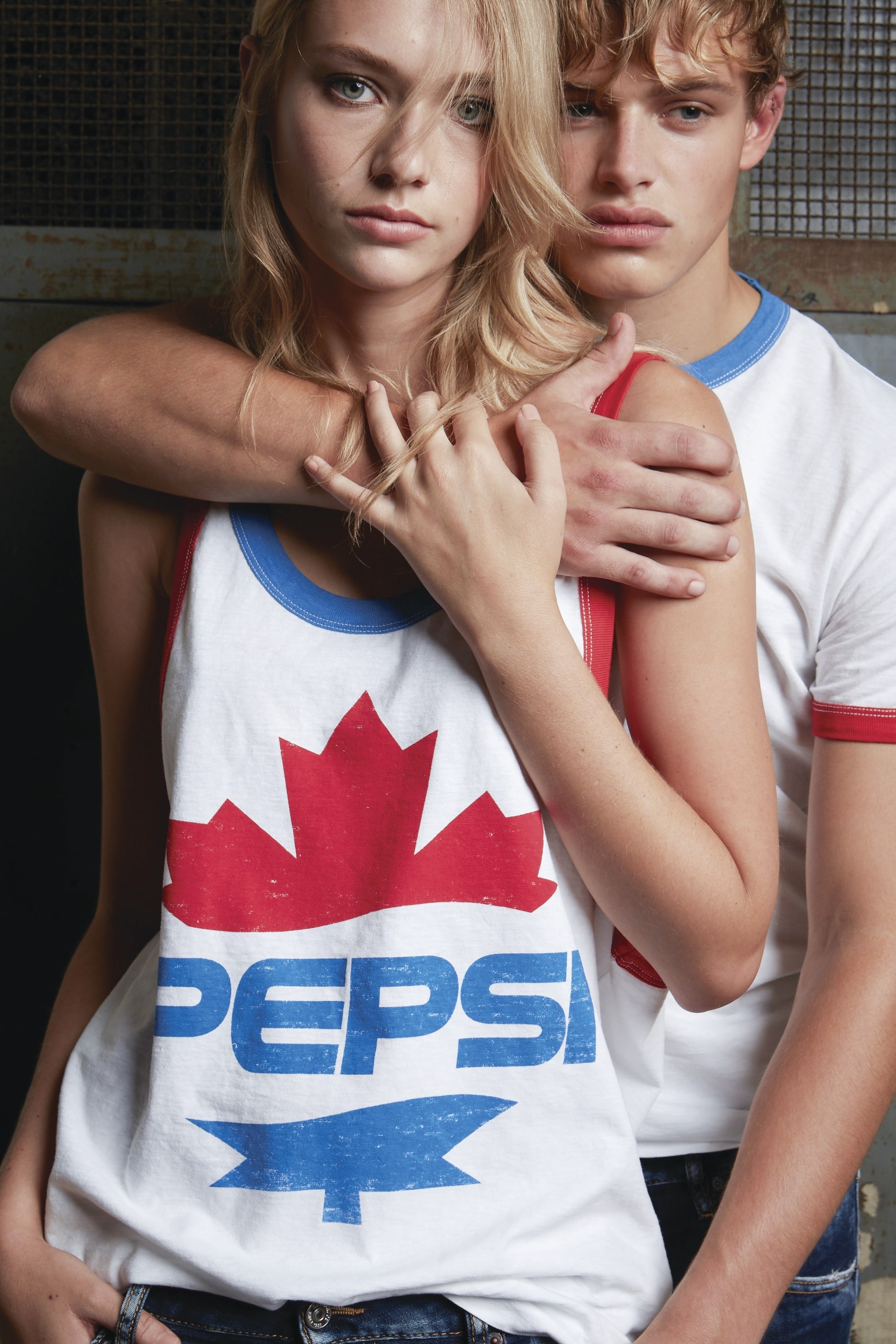 women's tank top and men's T-shirt from the #D2XPEPSI capsule collection available at Dsquared2, Bal Harbour Shops.
How do you think the spirit of your brand resonates with Miami? Dan: Our collections are a seamless melding of contrasts:sporty and glamorous, laid-back and extravagant, masculine and feminine. Just like Miami!
Are you both looking forward to your visit? Dean: We love Miami! It's multicultural and international, and we find the city very inspiring going from Wynwood to the Design District... and then a fun night at Faena.
Photography by:
Courtesy of Dsquared2