The couples running some of Miami's most popular new restaurants prove that too many cooks in the kitchen may not be a bad thing after all. What's their secret recipe? Attention to detail, clearly outlined roles and plenty of respect.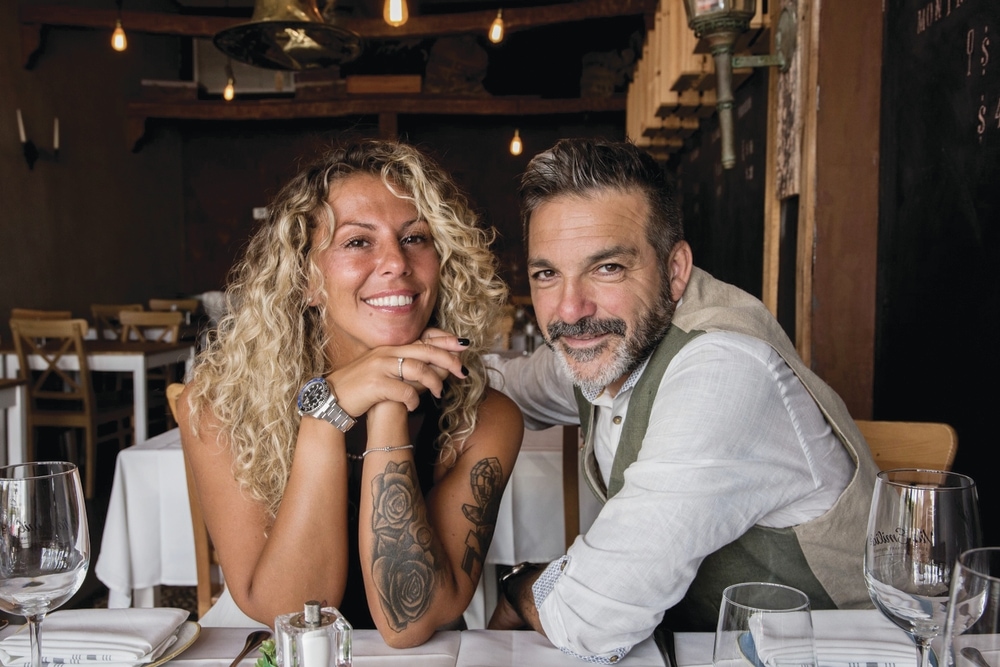 The Romantics
WHO Valentina Imbrenda and Giancarlo "Wendy" Cacciatori
THE RESTAURANTS Cacciatori opened Via Emilia 9 in Miami Beach in 2014 and Imbrenda began frequenting the restaurant and soon caught his eye. After dating for a month, Cacciatori asked Imbrenda to come work at Via Emilia 9. Three years later they were married and opened the New York eatery Nonna Beppa. Earlier this summer, they debuted a third restaurant, Via Emilia Garden in Midtown, where signature dishes include housemade tagliatelle and grilled langoustines.

AT WORK "I work the front of the house and Wendy is behind in the kitchen," says Imbrenda, "so we don't step on each other's toes."

AT HOME "We actually like to talk about work at home," says Cacciatori. "We have different roles at the restaurant, so that's when we catch up."

WHAT'S NEXT "We plan to open three more locations in the near future," says Imbrenda. "We just got back from Colombia, which gave us the inspiration for the next one and it's definitely going to be our dream restaurant, but we're not revealing anything yet." 3500 N. Miami Ave., Miami, 786.359.4990, viaemiliagarden.com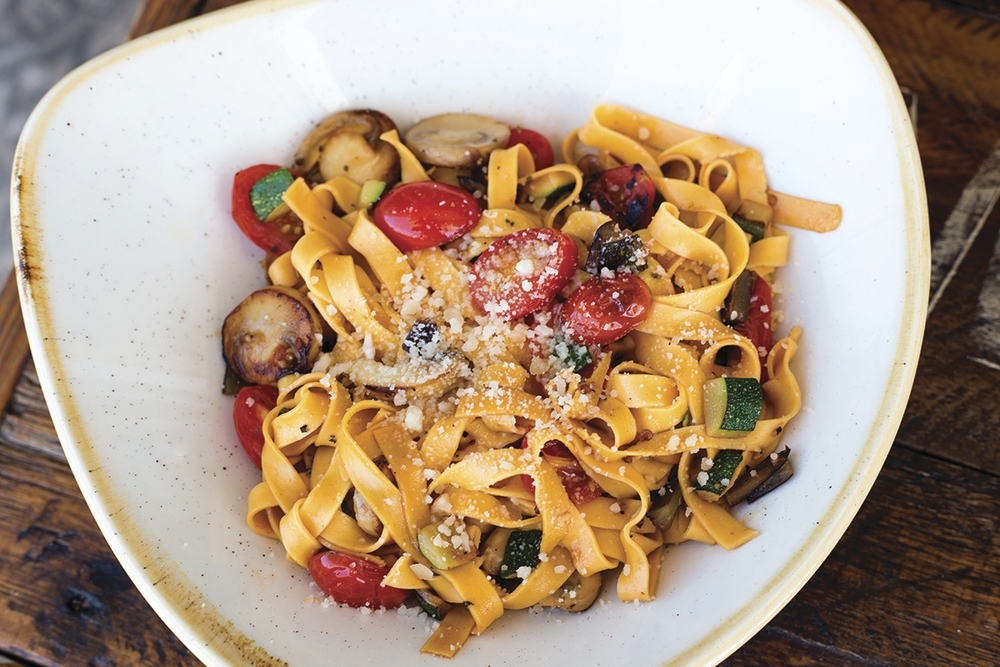 Via Emilia Garden's tagliatelle
---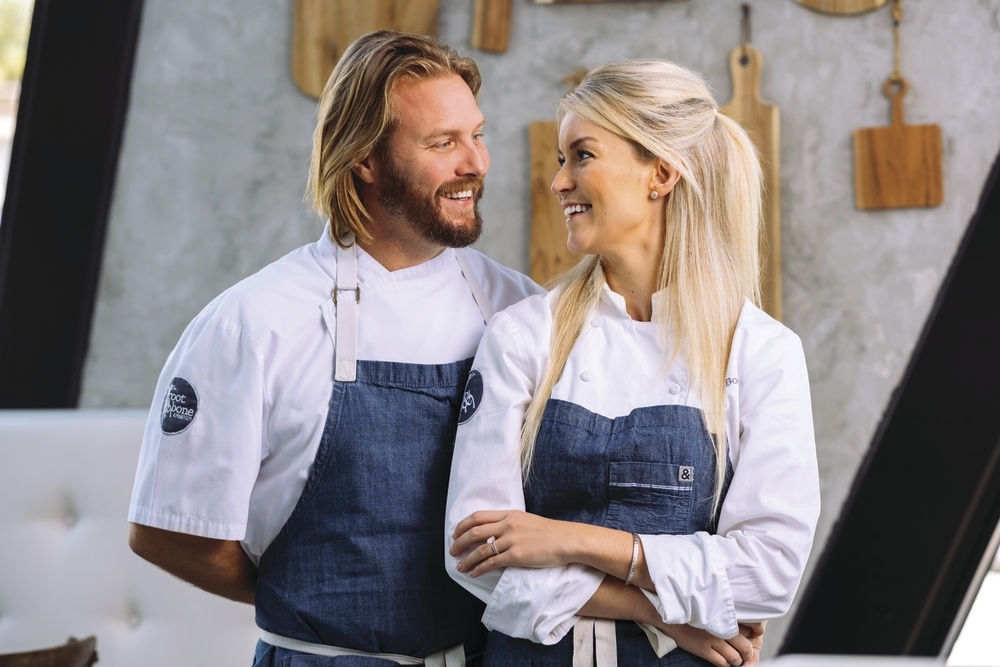 The Newlyweds
WHO Jeff McInnis and Janine Booth
THE RESTAURANTS After meeting and eventually working together at the long-gone Gigi's in Midtown in 2011, McInnis and Booth went on to fall in love, have a child and get married (earlier this year)—all while opening eateries such as Root & Bone in New York City and then Sarsaparilla Club here. Their current efforts include Stiltsville Fish Bar in Miami Beach and a South Miami outpost of Root & Bone.
AT WORK "We're both quite similar with our cooking styles and are good at developing restaurants efficiently," says McInnis. "Janine has a knack for giving our brands a specific look. I tend to focus more on the architecture and kitchen equipment. Then we both dive in with the cooking equally."
AT HOME "From time to time we have to remind ourselves to turn off the work switch when we're at home," says Booth. "But family time gets scheduled appropriately."
WHAT'S NEXT The two have quite a few projects in the pipeline, including Mi'talia in South Miami, as well as eateries in Indianapolis and right outside Chicago. 5958 S. Dixie Highway, South Miami, 786.785.1001, rootnbone.com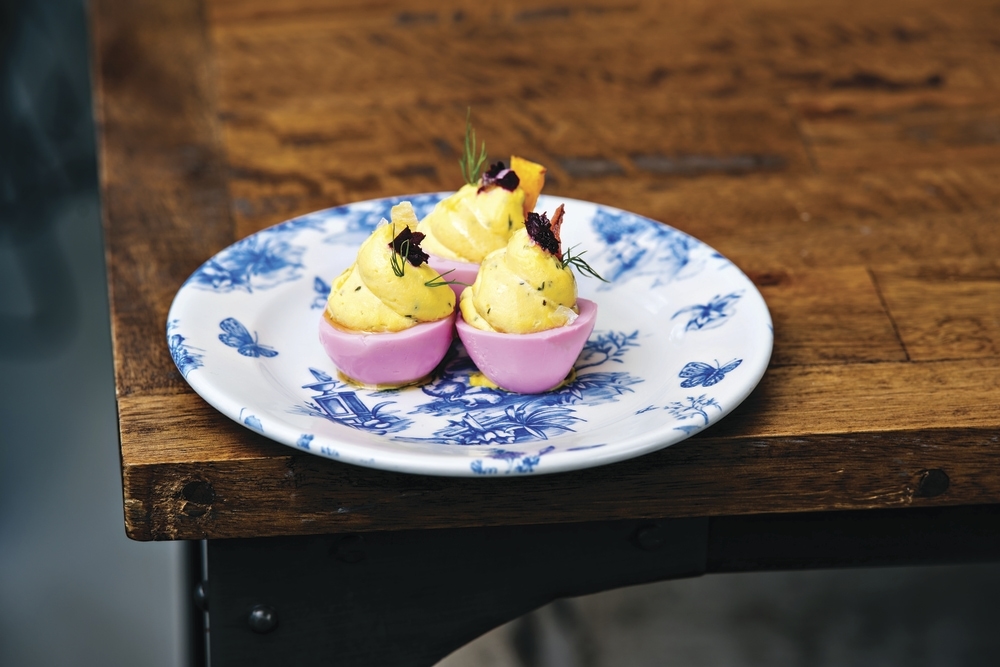 Root & Bone's drunken deviled eggs
---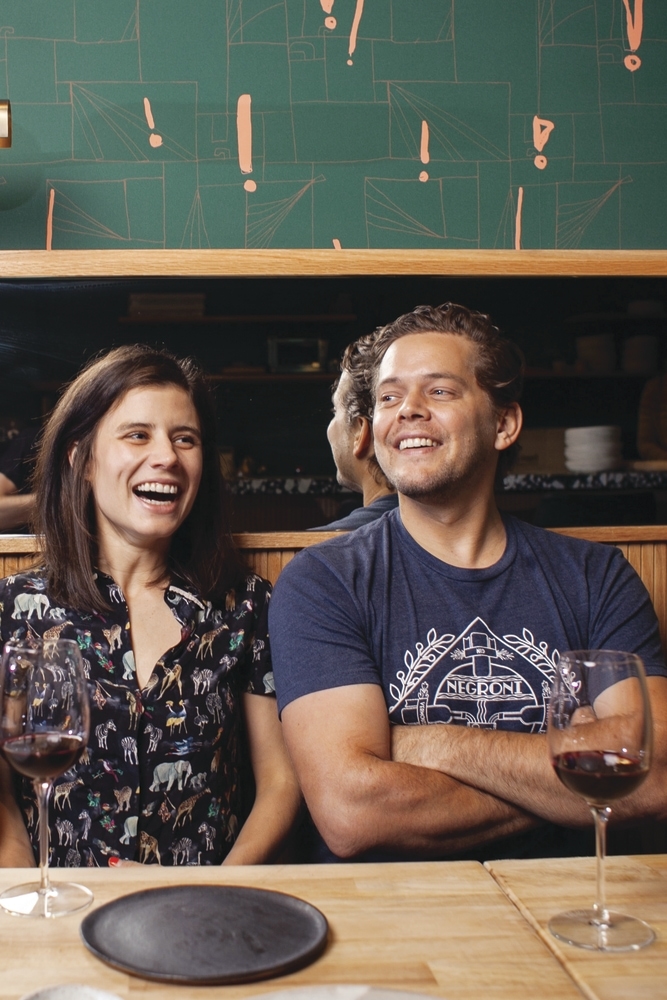 The Newcomers
WHO Luciana Giangrandi and Alex Meyer

THE RESTAURANT After meeting while working at The NoMad in Los Angeles, Giangrandi and Meyer moved to Miami with the intention of opening a restaurant. When financial reality set in, they took a leap of faith with a food truck called La Pollita, which served up traditional and modern tacos in the Design District from 2016 to 2019. In late June, their brick-and-mortar dreams came true with the debut of Boia De, a neighborhood restaurant with dishes such as crispy potato skin with stracciatella and caviar.
AT WORK "Alex stays calm under pressure and can problem-solve like no one else," says Giangrandi. "I've gained huge respect for that." Adds Meyer, "Luci is a true leader in the kitchen. Her energy is infectious, but she doesn't hesitate to come down hard on someone."
AT HOME "The hardest part is turning off," says Giangrandi. "But at some point you say, 'No more work talk.'"
WHAT'S NEXT "There's always the chance of a La Pollita comeback," hints Meyer. "Luci wants to open a bodega; I secretly want a sports bar." 5205 NE Second Ave., Miami, 305.967.8866, boiaderestaurant.com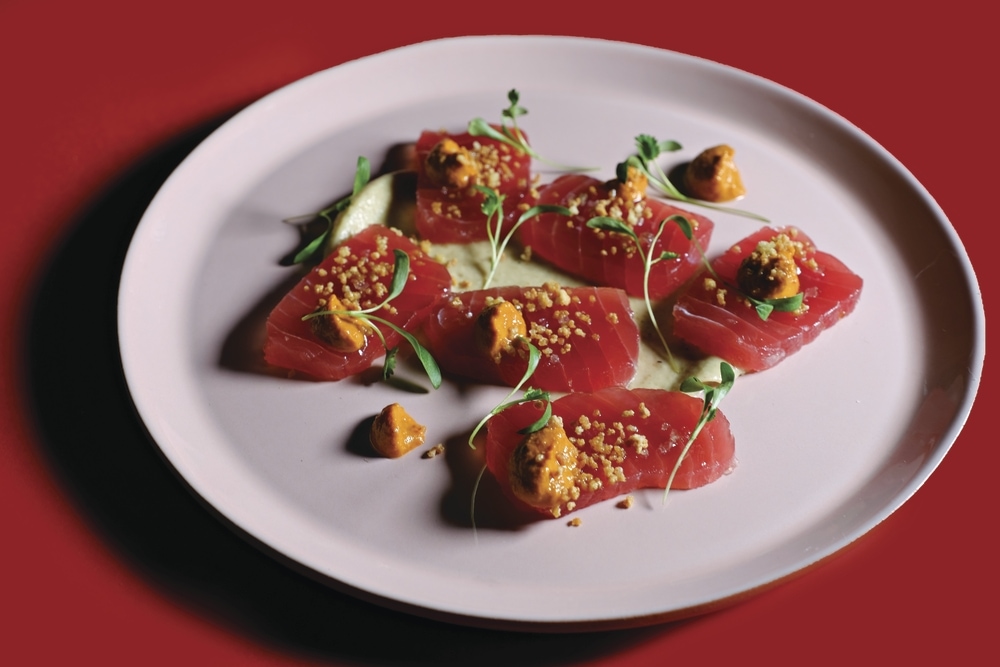 Boia De's tuna crudo
Photography by:
VIA EMILIA GARDEN FOOD & COUPLE PHOTOS COURTESY OF THE RESTAURANT; ROOT & BONE FOOD & COUPLE PHOTOS COURTESY OF GROVE BAY HOSPITALITY GROUP; BOIA DE FOOD PHOTO BY FUJIFILMGIRL; BOIA DE COUPLE PHOTO BY DAVID BLEY