Michelin star-winning chef Hemant Mathur gives curry, paneer and tandoor specialties their due at Maska.
The constellation of Michelin-starred chefs coming to town is mind-blowing... but only if you haven't been paying attention to Miami's explosive growth in the past two decades. Naturally, chefs who have scored a nod from the world's most respected critics want to expand their brand to a city that sees constant dining traffic from visitors and locals alike. What has me keeping that brain-exploding emoji at the tip of my index finger is where they're choosing to open: across from the University of Miami, Aventura Mall and, now, Midtown!
Sure enough, Maska Indian Kitchen + Bar has settled in the multiuse maze of Midtown, where outlet clothing centers and discount home design stores rub shoulders with high-priced condos. Maska's executive chef, Hemant Mathur, is the first Indian in the U.S. to receive the coveted rating from the Michelin Guide, for his restaurants Devi and Tulsa in Manhattan; restaurateurs Pravin Mascarenhas and Shamsu Lalani thought it would be a terrific idea to bring his contemporary, creative cuisine down to Miami. Having lived here largely without the gastronomic charms of the subcontinent for so long, we couldn't agree more: The plan was masterful, if not the precise location.
But that doesn't seem to be making a difference in Maska's near-instantaneous popularity. Like most of the restaurants and cafes here, the restaurant seats diners inside and outside. Its open-air tables are surrounded by tall hedges, which help shut out the wind tunnel that the architecture has created. Indoors still feels like outside, though, given that the beamed ceiling is woven with artificial tree limbs and leaves. Baskets of live plants interspersed with light fixtures hang down, and lanterns and an open kitchen, next to which is the famed tandoor oven, add a sunny warmth.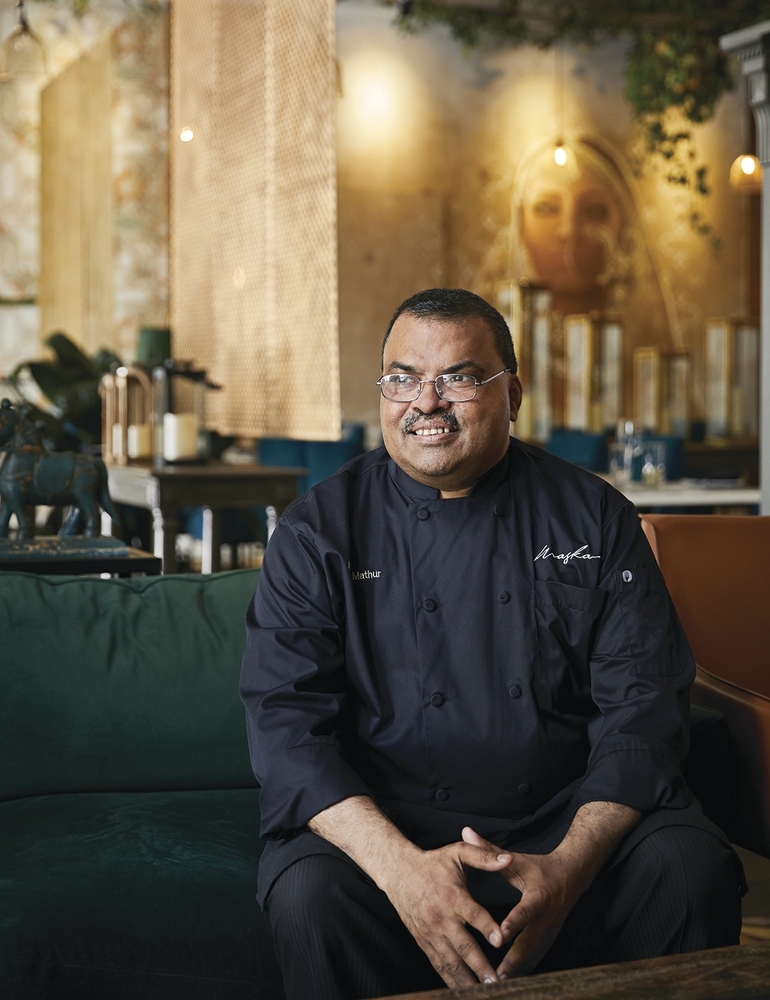 Chef Hemant Mathur
Given that Mathur is referred to as the "Yo-Yo Ma of tandoor cooking," it makes sense to start a meal with one of his signature dishes that stems from it, lamb chops. The server will ask you how you want them cooked, but allow the kitchen to serve them as they are supposed to be done: medium. Heavily marinated in yogurt spiked with citric acids, garlic, ginger and spices including garam masala, cardamom and cumin, the chops are piled on a wooden board with slices of red onion, a quarter of lime and a dish of beautifully balanced mint chutney.
The lamb is only one of nine items that Mathur and his team sear in the superhot tandoor, and many of them are vegan, such as the soy cream kebab, or pescatarian, like the Maine lobster. In fact, Maska is a wonderful choice for those parties that include all types of diners, as the menu is clearly marked. The khoya mushroom, for instance, is labeled with a Vg* for vegetarian. But the portobello, stuffed with paneer (farmer's cheese) is so delightfully rich that carnivores might not even notice the absence of meat.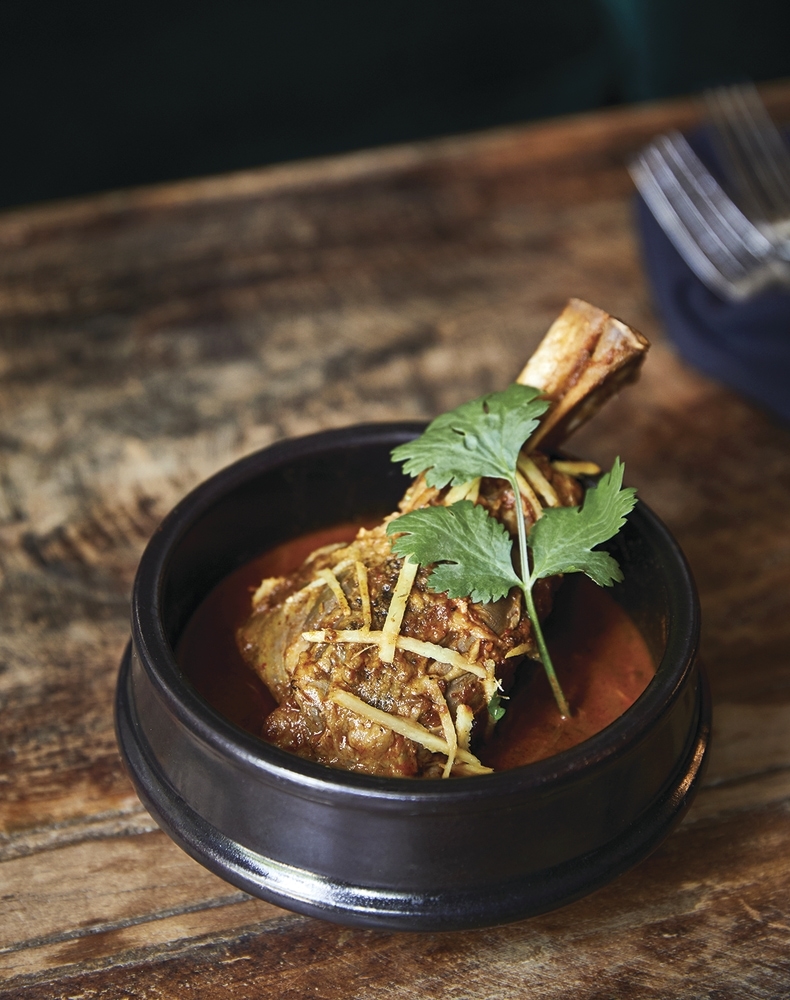 Braised Hyderabadi lamb shank with naan
The staff will, however. One evening, we ordered only meatless items. After we consumed starters of fragrant, jewel-toned tandoori prawn; kulcha (flatbread) stuffed with ground mushrooms; and aloo tikki, croquettes comprising potato, peas and a decent dash of curry, the server caught on and made dinner suggestions in line with our preferences. If you have a chip on your shoulder about being vegan or gluten-free, this is not the place to wear it. Instead, indulge in artistically plated jumbo lump crab dumplings, heady with mustard seed and curry leaf, or lacy dosa "tacos," crepes made from a fermented rice-and-lentil batter that are folded over a filling of spinach cooked down in coconut milk.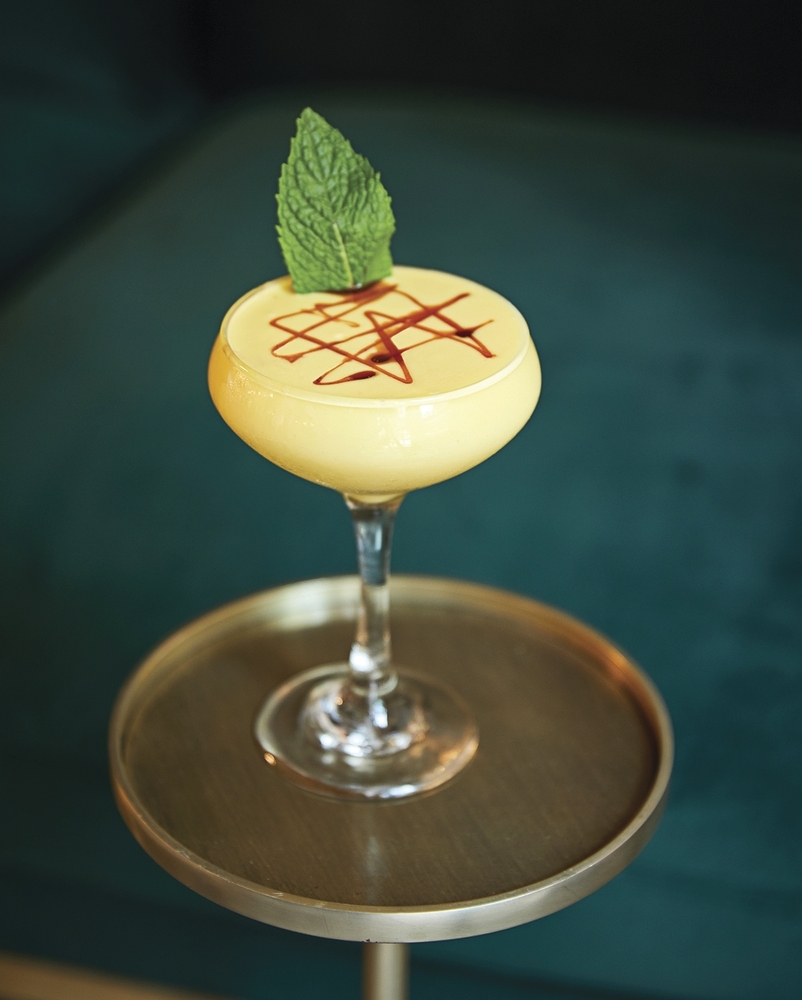 The Aam-Chi Martini is a mix of Bombay Sapphire gin, Solerno blood orange liqueur and lemon juice topped with mango lassi foam.
Spice up the dosa tacos or one of the accompaniments with a selection of chutneys (cranberry, mustard tomato and eggplant) arranged like a painter's palette. The half-dozen kulchas have plenty of spice on their own, especially the chile crab, so you may want to cool these down with a pair of raitas, both mint and boondi (made with fried chickpea flour).
Large plates range from familiar saagpaneerto the more interesting laal maas (goat curry) to the progressive grilled scallops marinated in turmeric. But it's awfully hard to resist Mathur's signature, full-bodied butter sauce, whether you order it over chicken or paneer, the pieces of which maintain their integrity in the generous bath of tomato cream.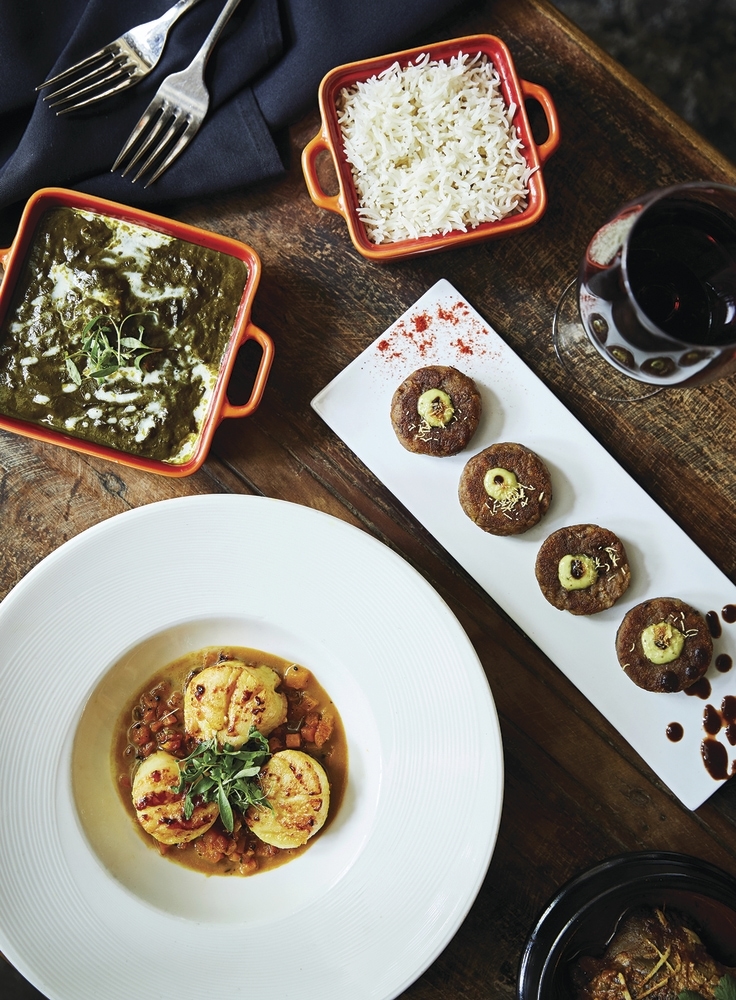 Saag paneer, potato cutlets and grilled scallops make a perfect meal.
A somewhat limited dessert menu offers popular standards that don't deviate into riskier territory as much as the savory dishes. That said, American palates may not be as accustomed to subtly zesty paan (betel leaf) ice cream. For a lighter touch, the creamy fig phirni is a blended rice pudding topped with stewed figs.
From a creative standpoint, Maska currently has only nearby Ghee Indian Kitchen in Miami Design District as competition (although Zaika in North Miami also offers wonderful traditional cuisine). Fortunately, this isn't World of Dance, so there won't be a duel. The two restaurants can only prop each other up—and hopefully inspire others to open here to continue to fill the dearth of fine Indian cuisine and share the wealth of those diners who want more of it to enjoy.
PARK IT
Parking is generally a hassle, even with valet, parking garages and street spots nearby. But the bright side is that the host at Maska validates your ticket no matter where your car ends up.
TO GO
Sister restaurant Cho:Tu, neighboring Maska, offers 30 seats and street fare like samosas, making it perfect for more casual consumption as well as for takeout.
WEEKEND MUST
Launched in April, the Sunday brunch allows diners to laze away the day with cocktails like the Aam-Chi Martini (Bombay Sapphire gin, Solerno blood orange liqueur, lemon juice and mango lassi foam) and plenty of curries.
Maska Indian Kitchen + Bar
3252 NE First Ave., Miami, 786.971.9100, maskamiami.com
Photography by:
Michael Pisarri