With all the gentrification taking place in Miami these days, sometimes I think the city has no culinary mystery left. No tucked-away pockets of savory greatness. Not a single storefront hiding poetic juiciness. Then Boia De happens.
Something of an open secret, Boia De, which means "oh, my!" in Italian, is crooked in the elbow of a strip mall in Little Haiti. The restaurant is known to followers of the late La Pollita food cart and has caught on among the influencer hoi polloi. But for diners in general, this narrow 24-seater, retrofitted in collectibles and hues that range from green to black, is still a blink-and-miss-it.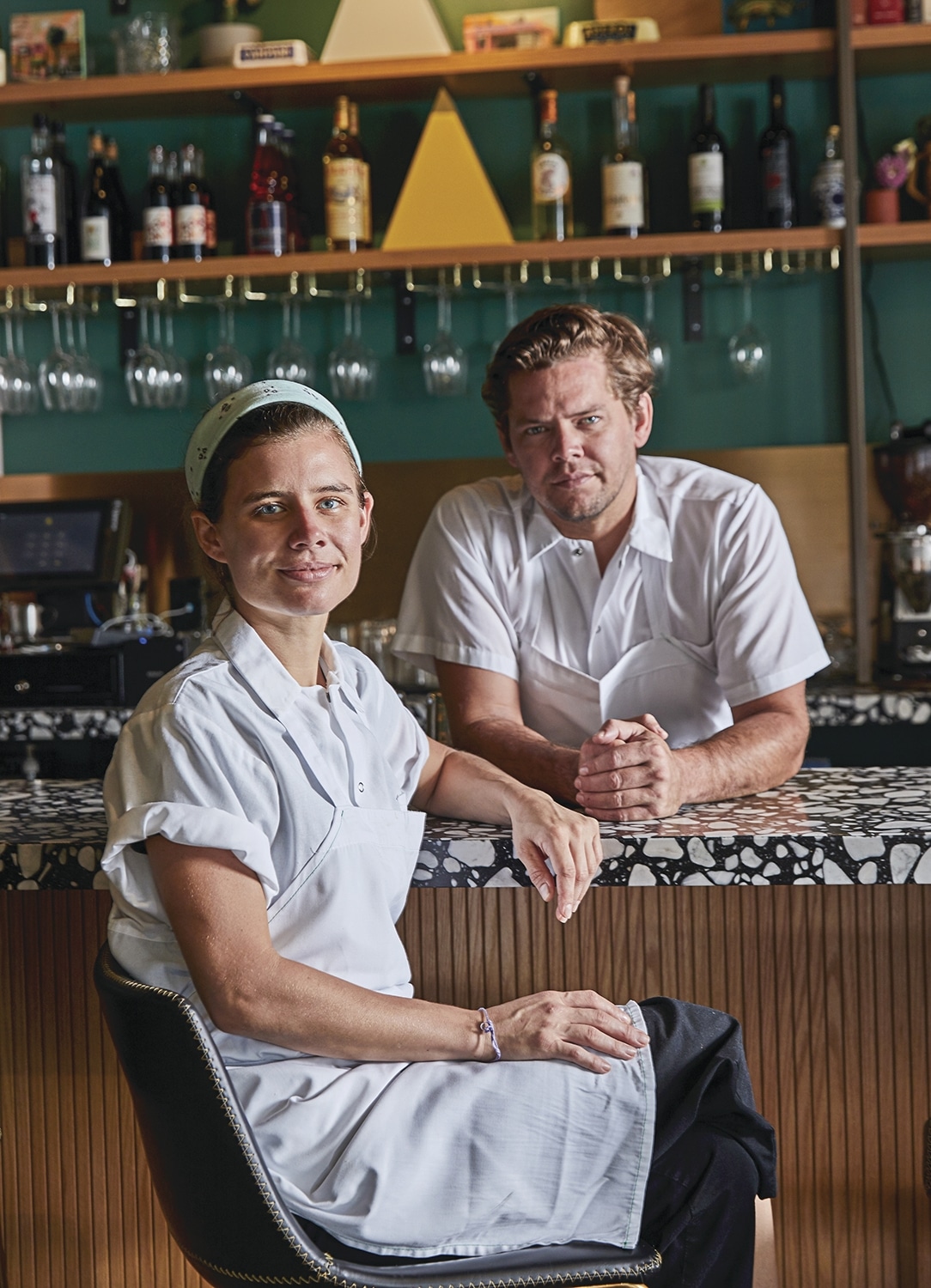 Owners and chefs Luciana Giangrandi and Alex Meyer
The concept at Boia De, owned by chef-partners Luciana Giangrandi and Alex Meyer, is not just the same old farm-to-table. Sure, it sources what's available from regional farms to craft the exquisitely fresh Luci's Chopped Salad, replete with marinated peppers and firm cannellini beans, or the simple lettuces, topped with crisp shallots—the first dressed with a finely balanced shallot vinaigrette, the second with a lighter take on Green Goddess. And then it goes hyperlocal as the bread, coffee and ice cream all come from nearby artisans.
Even the design of the cozy interior is inner-circle stuff. The dishes, which are tapas-sized and meant to be shared, are composed on plates handthrown by Danielle Kaufmann of Miami Shores' Proper Sausages. And Giangrandi's childhood friend Paula Lemme put her high-end hospitality interior design firm By Lemme to work, papering the bathroom with monkey wallpaper and adding tiered shelving behind the bar, which greets customers as they walk into the small foyer.
The off-kilter charm of the place in no way takes away from the professionalism, however. Servers pace out dishes so that you're not overwhelmed with a tableful of flavors. For instance, tuna crudo fanned out over a miso-eggplant schmear or hamachi enlivened with a citric yuzu salsa verde and fried capers will likely precede a heady collection of tender, whole grilled calamari bodies, perched over fregola and sauced with a sprightly herbal puree.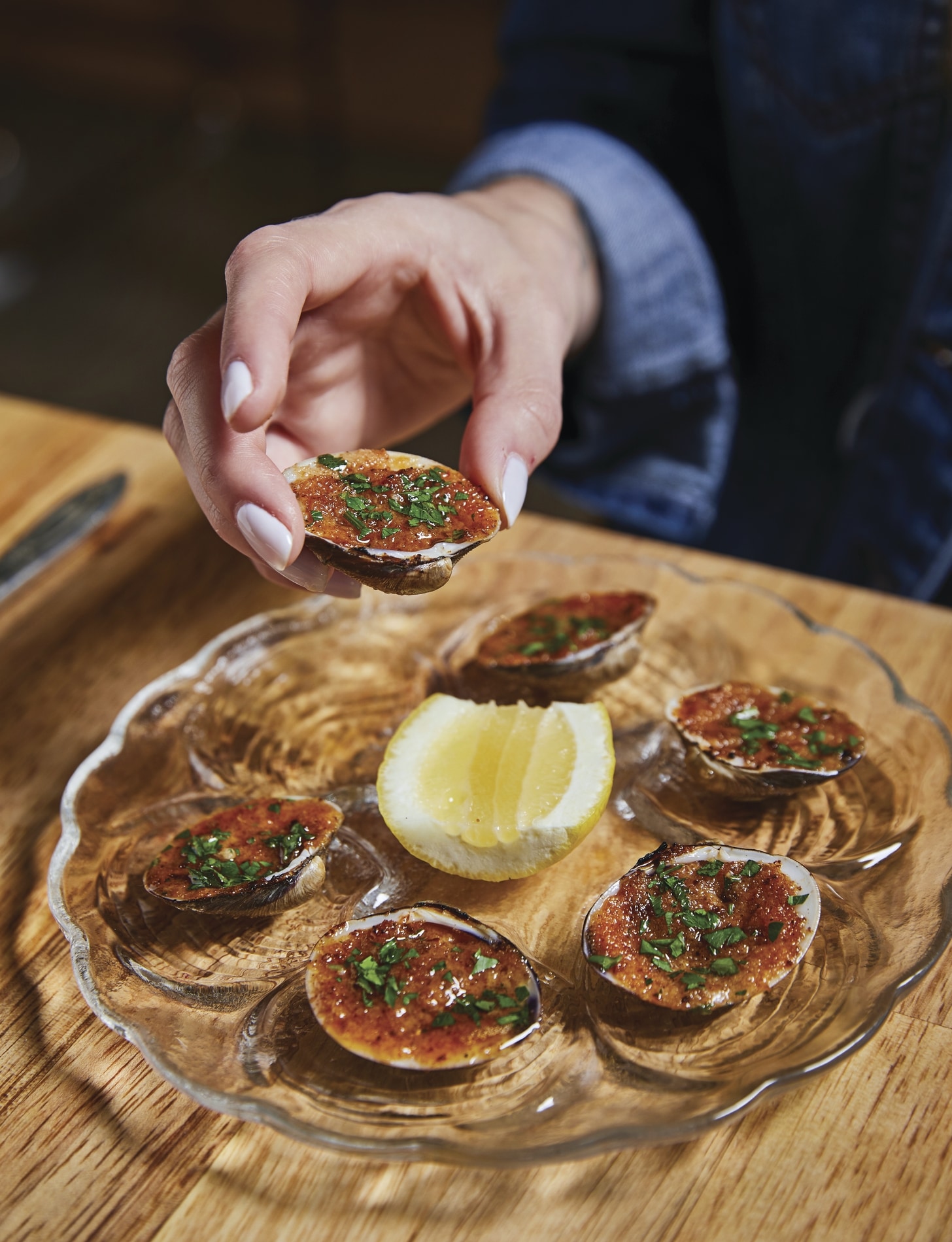 Baked clams with 'nduja
If you're very hungry, start with a bowl of marinated, meaty and mild Cerignola olives dusted with fennel pollen; these arrive right away. Then opt for some favorites like the potato skins topped with stracciatella, caviar and minced hard-boiled egg; crispy polenta with marinated eggplant, basil and ricotta salata; or baked clams with breadcrumbs and 'nduja (spicy, spreadable salami).
These all make delicious precursors to the pasta dishes farther down on the menu. Technically, that menu, which comprises about two dozen dishes, changes every season, but regular customers have already refused to allow the chefs to remove the ricotta gnocchi with cherry tomato pomodoro. Equally suitable for vegetarians, the sweet corn agnolotti with lobster mushrooms causes fork fights, and, for the more adventurous, the exquisitely rendered pappardelle with rabbit and tomato is also duelworthy.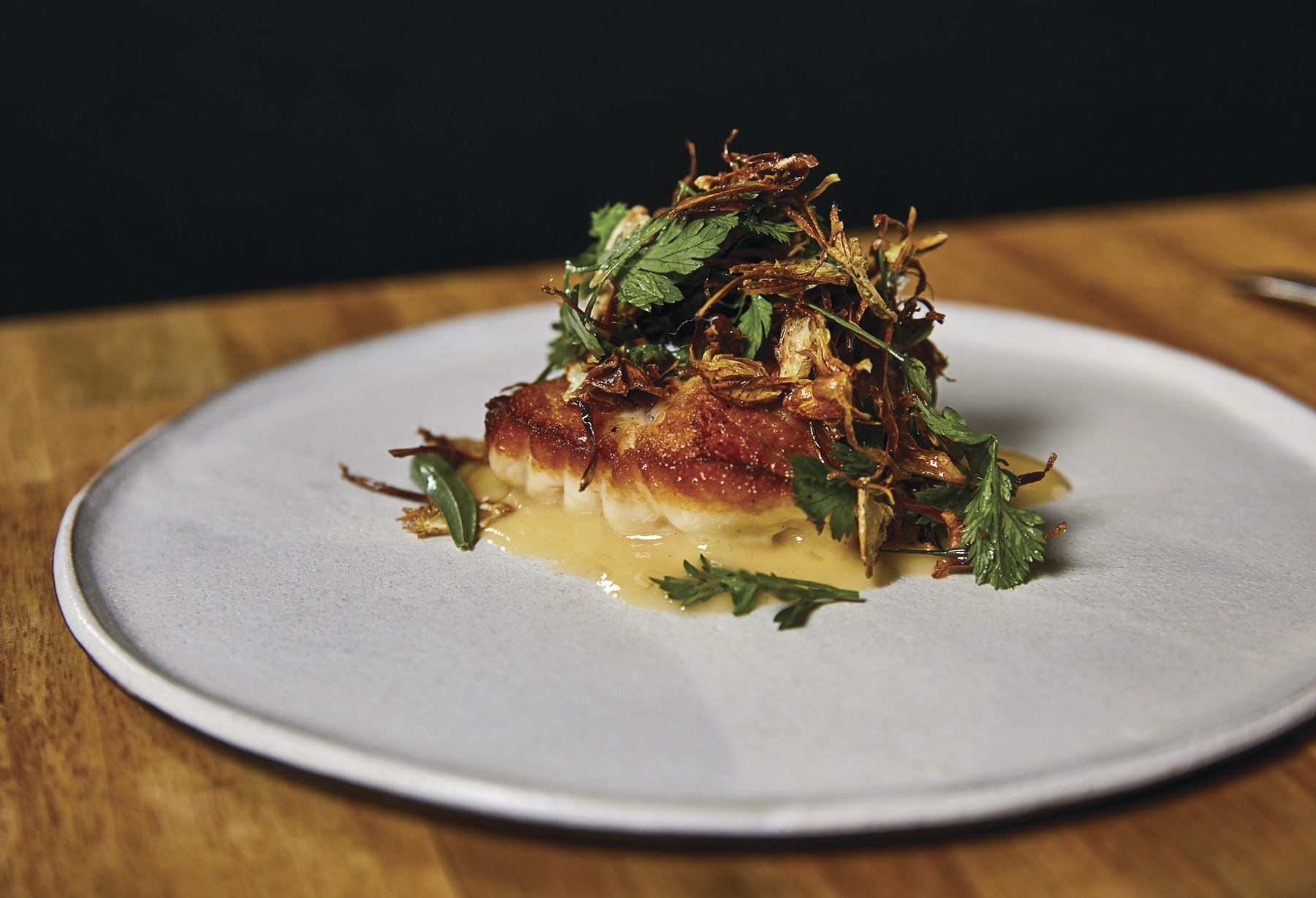 Seared grouper with crispy artichoke and lemon beurre blanc
While the menu is small, there's always a perfectly cooked fish dish, such as seared grouper or grilled yellowtail with crispy artichoke and lemon beurre blanc. Also available is a heartier meat dish, which might be anything from pork collar with fennel pollen, cherries and mustard greens to lamb ribs fra diavolo, dressed with a piquant tomato sauce, yogurt spiced with urfa biber (smoky Turkish chile pepper flakes) and pickles.
Of course, dessert can also bring the meal home: Carrot cake frosted with mascarpone and topped with Frice ginger ice cream is both rich and refreshing, as is the "crispy" tiramisu. For the latter, the trick is that the ladyfingers don't soak but, like a South Florida sunbather, are only dipped in liquid. This rejiggering works for these two chefs who are determined to make a Miami mark in their own way, with their own sense of mystique—and with a little bit of help from both fans and friends who are so devoted they're often difficult to tell apart.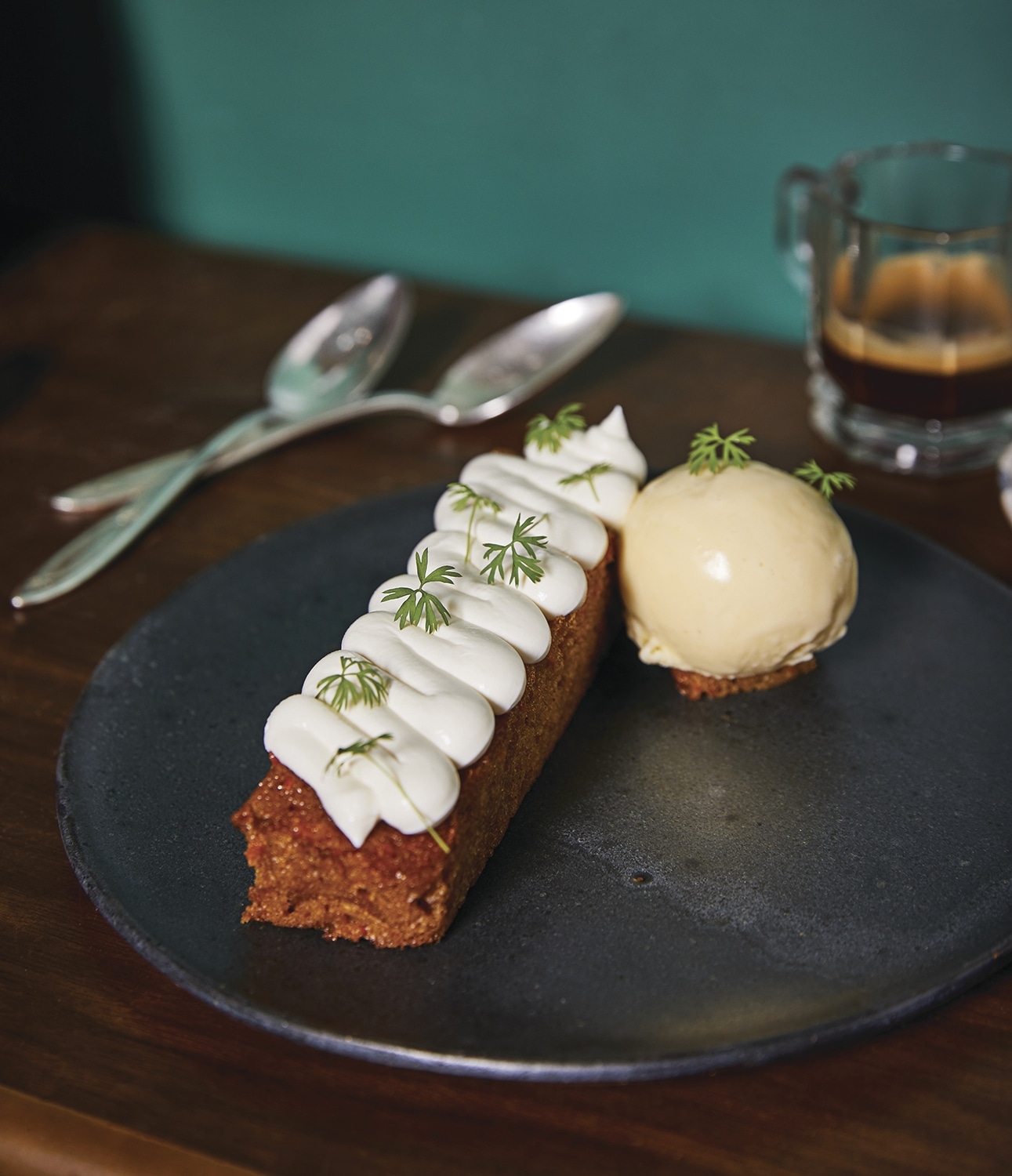 Carrot cake with mascarpone frosting and ginger ice cream
Photography by:
Michael Pisarri